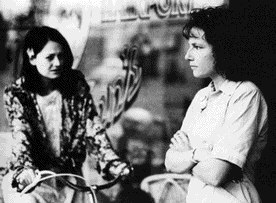 I can't beleeeeeeeeeeiiiiiiiiiiiive how good this movie is. It's like the kind of quirky aussie comedy that always seems to get made and is totally lame except this time it's PERFECT. It really is like a perfect film of it's particular type.
It's basically about this sleazy 'big time' radio DJ from Queensland named Ken Sherry who's taken over the job as DJ for a small country town radio station, and the two sisters who live next door becoming obsessed with him.
The script is great, everybody in it is excellent, and the way everybody in the movie keeps on saying the name "ken sherry" is just hilarious. And Ken Sherry plays nothing but Barry White and shit like that, and the juxtaposition of the music with the small town is just delicious. You gotta see it!