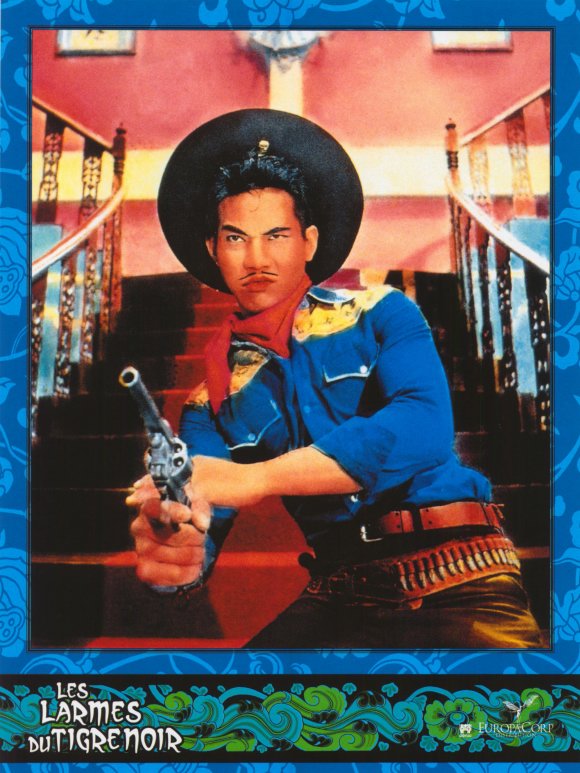 It is nigh on impossible for me to convey to you the degree to which this movie completely rules. It's a Thai epic western melodrama tragedy with super eye frying colours and painted backdrops and fabulous hammy villains and pencil thin moustaches and also big handlebar moustaches and beautiful ladies and handsome men and tearjerking thai oldies numbers and the kind of super dramatic sentimental dialogue / monologues that would be terrible in a western movie but that in Asian movie with subtitles just tears me apart!
I saw this about 10 years ago and finally watched it again last night. It still fuckin' rules! The guy with the pencil thin moustache who plays Mahesuan has that old style overacting down SO hard, he was my hero of this one along with classic 60s / 70s thai action film star Sombat Metanee who was perfect as the gang boss Fai (especially when he had that bad ass older guy in a singlet charles bronson look going on, as seen above), but everything about it is great.
Twelve stars!
***************
Oh yeah, and I love this quote from the writer / director Wisit Sasanatieng about the old thai films of the 50s that inspired him: "Whenever the Film Archive screened an old film, I'd be there. Usually, I'd be the only one there", Wisit said in an interview at the Vancouver International Film Festival in 2000. "Most Thai audiences dislike Thai movies, especially the old ones, which they consider nam nao", he said, using the Thai language euphemism for the old films, which are viewed as stagnant and cliched. Literally, nam nao means "stinky water."